DIY Honey Birdseed Treats - Love Your Feathered Friends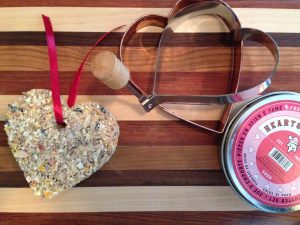 Love Love !.. these cute honey birdseed molded treats! As February rounds the corner our feathered friends here in Canada aren't very round at all! This is a nice recipe for the birds to give them a little treat before the bugs come out and fun to give to friends and family this valentines day!
Molded Birdseed Treats
You'll need:
3/4 cup flour...
1/2 cup water
1 envelope unflavoured gelatin
3 Tbsp honey
4 cups birdseed
molds
nonstick spray
drinking straw
wax papaer
ribbon
Steps to follow:
Combine flour, water, gelatin and honey in a large mixing bowl. Stir until well blended.
Add the birdseed to the mixture until coated.
Spray your molds, spoon birdseed mixture into each mold. Pack down the seed until smooth, I used a small spatula. poke a hole through the top of each shape molded using a straw, making sure it goes all the way through.
Leave the birdseed mixture in the molds for 2- 3 hours. Remove the straws, then layout the wax papaer. Gently remove the hardened shapes from the molds and place on the wax paper to dry.Leave to dry overnight.
Cut your ribbon and carefully put through the hole.
Package them up to give as gifts!
Jul 05, 18 02:16 PM

. Bee pollen has numerous health benefits and is as a result worthy of its title as a superfood. Among its most important perks are improved liver function, detoxification and anti-inflammatory effect…

Jul 05, 18 01:44 PM

One of the most underrated of these products is a precious compound known as propolis. Like honey, it possesses numerous unique properties that can be harnessed for health purposes

Jul 03, 18 03:23 PM

When most people think about honey bees, they mostly are interested in the honey bees produce. However, bees make another important substance known as beeswax.