My Favourite Honey Recipes
Honey is made by bees using nectar from many different flowers. The viscous liquid is the sweetest food the world has ever known. Honey is not only known for its sweetness but also for its medicinal and nutritional value. For the same reason honey is used in several recipes to prepare a number of delicacies.
Nectar from different flowers is responsible for the variety of honey that we have, of which the difference is evident from the texture, flavors and colors. Honey is a natural ingredient and it's the reason why it is included in many of the recipes, from cakes and sauces to meat. Here are some of the recipes...
Honey Cake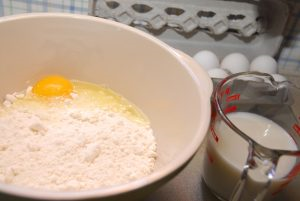 Honey cake will take you around thirty minutes to prepare while the actual cooking takes around 45 minutes.
Ingredients
Water
170g/6 oz clear honey
2 eggs
200g/7 oz flour
85g/3 oz light sugar
and 140g/5 oz butter
You will need hot water, 55g/2 oz icing sugar and 1 teaspoonful of clear honey for the purpose of icing.
After collecting all these ingredients you can start the cooking process by measuring honey, sugar and butter in a pan. The oven should be pre-heat to 180C/350F/Gas. The cake tin size being 7inch/18cm.
Add a little water and heat till it melts. Remove the pan from the heat and mix with the eggs and the flour.
When you are done mixing spoon into the tin with the cake and bake for around 40 minutes until the cake shrinks slightly and cool a little bit before turning it out onto a wire rack.
Make the icing when the cake is still warm. This is done by mixing honey and sugar with 2 teaspoons of water (hot). After this trickle over the cake, making any design of your choice. The cake serves eight people.
Honey Garlic Beef
Honey garlic beef takes 10 minutes preparation and 20 minutes of cooking bringing the total to half an hour.
Ingredients are:

2 tablespoons of honey
1 tablespoon of soy sauce
1 tablespoon cornstarch
3 cloves garlic(minced)
1 lb steak( cut into small pieces)
oil( for deep frying)
and 2 egg whites
If you wish you can add toasted sesame seeds, and sliced green onions. Cooking starts with preheating the oven to 250F.
Stir the egg whites and cornstarch in a large bowl until they are frothy. Add the pieces of steak while heating up the oil. Line a rimmed baking sheet and place a cooking rack over it. Using a large bottomed pot, heat a little amount of oil till it reaches 350F.
Use a fork to drop the steak pieces into the heated oil. Cook till it becomes golden brown (this will take around 5 minutes). Put the steak pieces on the cooling rack. Keep them warm in the oven. Sauté the garlic for around a minute and add soy sauce and honey.
You can then add the sauce to the steak bites and enjoy the meal with any grain or rice. The dish serves two people.
Honey Garlic Sauce
It takes two minutes to prepare.
Ingredients are:
half a cup of honey
2 tablespoons of soya sauce
2 tablespoons of vinegar
half teaspoon ginger
a quarter teaspoon garlic powder
You may include 1 tablespoon of cornstarch. You then mix the ingredients above and if you want it thicker add cornstarch. Heat it till it thickens.
Honey Sauce
Ingredients are:
1 cup of brown sugar
half a cup of margarine
¼ a cup of honey
¼ a cup of milk.
Boil all these ingredients in a saucepan (medium heat) and stir for 2 minutes.
Honey Barbeque Sauce
This recipe makes 2 cups of honey barbeque sauce.
Ingredients are:
¼ a cup margarine/butter
1 medium onion
1 cup ketchup
¼ cup honey
¼ teaspoon ground black pepper
1 tablespoon Worcestershire sauce
1/3 cup water
Melt butter/margarine (in a small sauce pan) over medium heat. Add onions and fry till its tender (this will take about 4 minutes) then stir in ketchup. Add the remaining ingredients to boil, reduce the amount of heat and let the sauce simmer for five minutes (do not cover it). You can store the sauce in a refrigerator for a week.
Honey can be easily used in many different ways without making too many efforts. It is not only a natural sweetener, but also has many other benefits. According to numerous studies and researches, honey protects your body against infections and also prevents many diseases. Usually, natural honey bee food contains royal jelly, bee propolis and bee pollen.
A Delicious Honey Cocktail Recipe
Almost all of us attend parties or even host them on a regular basis. Most of the time, guests just want to sit back and relax. For many people, relaxation means having a few drinks and enjoying themselves. However, people are usually confused about the choice of drink to be kept in a party. As a host, a person has to keep in mind different preferences, likes and dislikes. A cocktail is often a good choice when you are confused in such circumstances. Let us tell you about the recipe of a delicious and easy-to-make cocktail :
Honey Bee cocktail
Preparation Time - Approximately 15 Minutes
Ingredients (For one drink):
¾ oz lemon juice
2 ½ oz apple Cider
½ oz Honey
½ water
Lemon twist to garnish
Ice Cubes to add to the drink
First of all, you have to take a saucepan and fill it with honey and water. Heat them for some time until the mixture thickens. Once the mixture has thickened, let it cool for some time. After this, add honey syrup, lemon juice, cider into a shaker. You should also add ice. Shake well until everything gets properly mixed. Pour the drink in a cocktail glass without ice. Garnish it with a lemon twist. Your Honey Bee cocktail is ready to be served. It will taste as sweet as honey, with some sourness from lemon and just a hint of apples.
With the use of the sweet magic of honey, you can make plenty of delicious meals. Therefore find out the use of honey on wherever meal you are planing to cook. The above recipes are just but a few of the many available honey recipes that you would love to try out first.
Daily intake of honey in an appropriate amount means good health
Moreover, honey can be easily incorporated into your diet via simple and delicious recipes.
To start with, you can simply eat one tablespoon of honey with your morning tea. In the afternoon, iced honey tea can also be a good choice. At night, a honey bee cocktail will completely relax your mind and body.
While making food for your family, you can add taste as well as health by adding just a few drops of honey.

Honey is healthy for your body
However, you should consider a few things while using honey in home recipes.
You should not heat raw honey over 160 degrees Fahrenheit. This is because excessive heat causes honey to lose its medicinal properties. Honey is a natural sweetener. Therefore, you should use honey in less quantity than sugar. In other words, one cup of sugar is equivalent to half or three-fourth cup of honey. Moreover, honey turns food into brown color quickly. Therefore, cooking temperature should also be low.
As mentioned earlier, natural honey has many benefits. It affects your health as well as beauty. Moreover, it can be consumed by everyone. Honey can be easily used for a lot of home remedies, home recipes and many other purposes. In fact, it can be easily bought at affordable rates. Honey also acts as a good cure for many different types of skin problems.